This is where the fun starts.....
The client will need a valid legal learners license to go for a driving lesson. Whether you are a beginner or an experienced driver the instructor will adjust his training style to accommodate you. You dont need to worry about transport to come to us for the lessons, we will pick you up and drop you off. We work weekdays from 6:30 am to 6:30 pm and on Saturdays from 8am to 3pm. Cancellations must be done 24 hours in advance otherwise the full fee is payable.
We offer the following options:
Driving lessons booked per hour
Test packages
One or two hour driving lessons; the one hour lessons are for the beginners and as you get more experienced, two hour lessons are suggested as parkings will be covered during this time.
The vehicle you will get the training in is Volkswagen Vivo with powersteering, ABS braking, Aircon and a very comfortable and easy to use clutch, gear and handbrake combination, height adjustable driver's seat, making it the ideal tool for training and the lives of our students alot more pleasant!
And then there is always the automatic option to make your life more easier, as we now provide training in a AUTOMATIC POLO VIVOS as well.
You will learn the following during your driving lesson training with Olympic:
The starting procedure
Stopping, moving off and the changing of gears
K53 driving on a public road (observations,blindspots etc)
Rules of the road
How to read, understand and apply road signs correctly
The road test
The yard test
Parkings (Alley docking, parallel parking, three point turn)
Moving off from a steep incline
Pre-trip inspection inside and outside
Hand signals
Emergency stop
Please note that the images below are placed as an idea and may not be copied. The detailed images will be sent to our current clients for assistance on getting the license of a lifetime.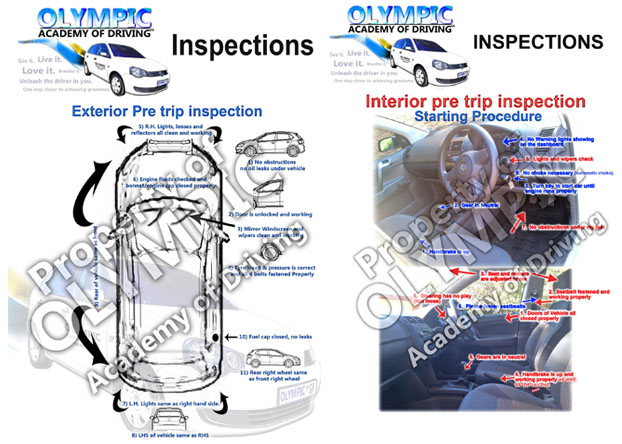 Parking Training
The parking training is usually done on 2 hour sessions and remember to bring your extra R30.00 for the parking fee at the private parking areas. Please note that this fee is not payable to the driving school.

Luckily you will not be expected to reverse this combination of vehicle... But do let us know if you feel like a challenge and want to better your normal day to day driving skills.